French Origins
The name Duchemin, or du Chemin, belongs to an old family of Tinchebray in the Normandy region of France. The name appears in numerous records beginning in the 16th century and these records indicate that they were a prominent family with significant property ownership and involvement in the local administration. Most of the family were Catholic which was the dominant religion in France at that time. Only one branch of the family was known to be Protestant, or Huguenot, and they lived in the parish of Notre-Dame-de-Tinchebray. There were five main Protestant families in Tinchebray: Poret, Guitton, Boille, Pellier, and Duchemin. These five were considered the most obstinate "of all the religionists who are in the country."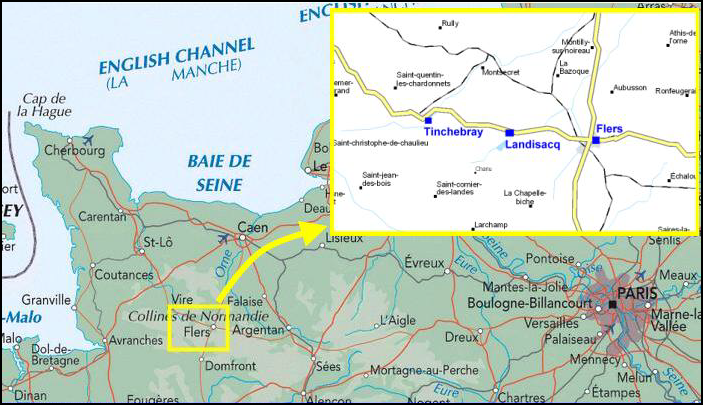 The common ancestor of all the Duchemin Huguenots was Remy Duchemin of La Madeleine (an estate in Tinchebray). He was born about 1555 and had at least four children:
Jeanne Duchemin (born about 1585) married Bertrand Tasseau, a Catholic, and she had significant Catholic descendants in the Tinchebray region.
Pierre Duchemin (born about 1590), sieur of Broudière, married Marie Auvray, and they had at least three children.
Jacques Duchemin (born about 1600 and died 12 Aug 1670), sieur of Moulins, married Marguerite Dumont and had at least one child. Evidence of Jacques' strong Protestant belief is an incident where the priest of the parish of Notre-Dame of Tinchebray pursued him before the criminal and civil court of Tinchebray for showing "disdain of the blessed sacrament of the Eucharist". During Catholic religious processions through the streets of Tinchebray, citizens were required to remove their hats as the procession passed as a sign of respect. Protestants typically avoided these situations by shutting themselves indoors or using different roads. Jacques refused to remove his hat during the Eucharist procession of 24 December 1665, drawing the ire of the priest.
Jean Duchemin (born about 1590 and died about 1664), sieur of La Madeleine (sieur is a title of respect used to refer to estate owners in France before the revolution of 1789, it does not imply any nobility). Jean Duchemin first married Guillemette de Monbrey with whom he had five children: David, Judith, Isaac, Daniel, and Marie Duchemin. After the death of his first wife, Jean remarried with Anne Le Noir, daughter of Christophe Le Noir, sieur of Landavran, and Esther de Coisnon, of Vitré in Bretagne. They had four children: Samuel, Charles, Jean, and Rachel Duchemin.
Division of Jean Duchemin's Estate, 20 May 1661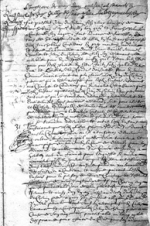 In 17th century France inheritance was governed by the custom of Primogeniture which meant that the family estate was inherited by the firstborn male child. Jean Duchemin deviated from this custom by distributing his estate equally to his six sons prior to his death. The distribution of his estate prior to inheritance (succession) is recorded in a document entitled "An Act in Advance of Succession" dated 20 May 1661 that is preserved in the French Archives. This document is a valuable genealogical resource because it provides significant details of Jean Duchemin's family. It also describes a very interesting application of what is today called game theory to create equal estate shares. Refer to the page "An Act in Advance of Succession" for details of this document including a copy of the original document, a transcription, and a rough translation.
La Madeleine (La Magdeleine)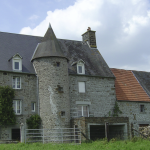 Jean Duchemin's estate in Tinchebray was called La Magdeleine and it still exists today as La Madeleine, although it is no longer in the possession of the Duchemin family.
Samuel and Isaac Duchemin
Isaac Duchemin, the second son of Jean Duchemin and Guillemette de Monbrey, was probably born about 1620-25. He was one of six "elders" of the Huguenot Reformed Church of Fresnes (parish of Tinchebray). Isaac Duchemin married Jacqueline Onfrey on 5 Feb 1645 in Tinchebray (The notary's record of the marriage of Isaac Duchemin and Jacqueline Onfrey is contained in an inventory by Gérard Villeroy and is preserved in the Departmental Archives of Orne.), widow of Jean Buffard, and daughter of Guillaume Onfrey and Jeanne Chretien of the parish of Fresnes. They had at least two children, Daniel and Marie. Daniel Duchemin was born about 1656 and died about 1705. In 1695, Daniel married Madeleine Maubant, of the parish of La Graverie (Manche). Marie Duchemin was born about 1651 and died on 12 Jul 1741. She was buried in the family cemetery at La Madeleine.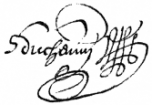 Samuel Duchemin was born about 1635-40 and was the eldest son of Jean Duchemin and Anne Le Noir. He married Marie du Mont (marriage contract dated 3 Sep 1661 in Fresnes (Marriage contract witnessed by Robert Maillot, tabellion (notary) of Fresnes. The original records were destroyed in 1944 by allied bombs, but an inventory of the records of the notaries of Fresnes were made before the war by Auguste Surville and are preserved in the public library at Flers-de-Orne.), daughter of Philippe du Mont, sieur of Chesnée, and Elisabeth d'Eschalou of the parish of Fresnes. They had at least three children: Judith, Daniel, and Marie. Judith Duchemin was born 7 Jul 1669, Charles Duchemin and Judith Monbant named her when she was baptized at the church of Fresnes on 14 Jul 1669. Son Daniel Duchemin was known to be a soldier in 1694.
Abjuration of Heresy
Following the revocation of the Edict of Nantes in 1685, Isaac and Samuel Duchemin were forced to renounce their protestant religion by making an abjuration of heresy. They did this at the Catholic Church of Saint-Quentin-les-Chardonnets (district of Tinchebray) on 10 Mar 1686. The two half-brothers then left Normandy and most likely immigrated to Jersey (Channel Islands) about 1687-90 so that they could remain faithful to their religious convictions. They are believed to have left their families in France. It is likely that they were both widowers at this time.
Samuel and Isaac emigrated to America sometime before 1693 where Samuel became the progenitor of the Dishmans of Virginia. The evidence connecting Samuel and Isaac of France with Samuel and Isaac of Virginia is circumstantial, but strong. See the Samuel and Isaac Duchemin page.