Dishman Migration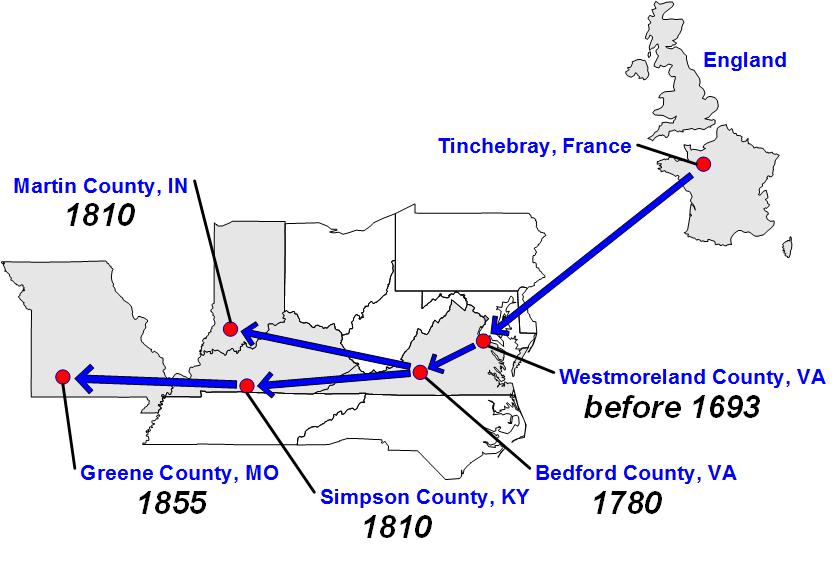 According to the available evidence, Samuel Dishman (Duchemin) was born near Tinchebray, France and was a Huguenot (French Protestant). He fled France with hundreds of thousands of other French Protestants around 1685 when the Edict of Nantes was revoked and widespread persecution of Huguenots resumed. He may have gone to England, where many Huguenots found safe refuge. Samuel emigrated to the Colony of Virginia sometime prior to 1693, where he purchased land along with Isaac Duchemin (his half-brother) and settled in Westmoreland County, Virginia. Most of Samuel's descendants remained in the Northern Neck of Virginia, settling in Westmoreland, King George, Essex, and Loudoun counties.
Shortly after the American Revolution, Jeremiah, William, and James Dishman, three sons of Peter Dishman (youngest son of Samuel), moved to southwest Virginia and settled in Bedford and Botetourt counties, where they married and began to raise families.
By 1810, the three brothers and their families had moved farther west to the area around Simpson County, Kentucky. One of Jerimiah's sons, John Dishman, moved to Martin County in southern Indiana.
In 1855, another of Jerimiah's sons, Jerimiah B. Dishman, moved to Green County, Missouri, where a large number of his descendants still live. Some of these descendants moved to Texas after the Civil War.
Two 4th great-grandsons of Samuel Duchemin, Addison T. Dishman II and his brother Wilton Dishman, moved from Virginia to Washington state near the end of the 19th century and founded the town of Dishman, Washington, now an unincorporated part of Spokane.