Act in Advance of Succession
Jean Duchemin divided his estate of La Madeleine between his six sons prior to his death by executing "An Act in Advance of Succession" on May 20, 1661 before the royal notaries Guy Halley and Isaac Ybert in Tinchebray. This act superseded the customary practice of primogeniture which meant that the family estate was inherited by the firstborn male child. In addition to the division of his estate, the act imposed the condition that Jean would be allowed to continue to live in his rooms and be provided with food and water for the remainder of his life. The act also required the brothers to take care of their sister Rachel until she married and pay her 600 pounds when she married.

An interesting feature of the agreement was the manner in which the estate was divided. The youngest son, Jean, was given the task of dividing the estate into six shares, and then the brothers each selected one of the shares beginning with the eldest brother David and proceeding in order of age. Jean, being the youngest, was left with the last remaining share. Therefore he had a strong incentive to make the shares as equal as possible so that the share left for him would be as valuable as the others. This is an early application of the fair division problem that is an active research area of mathematics and game theory.
Analysis
This act contains several items of genealogical interest:
Jean Duchemin is identified as the son of Remy and a citizen of Tinchebray
David, Isaac, and Daniel Duchemin are identified as the sons of Jean Duchemin and Guillemette de Monbrey
Samuel, Charles, and Jean are identified as the sons of Jean Duchemin and Anne Le Noir
Rachel is identified as the unmarried daughter of Jean Duchemin
The birth order of the six sons is given as David, Isaac, Daniel, Samuel, Charles, and Jean
Jacques Duchemin is identified as a son of Remy
Because neither of Jean's wives are mentioned, they are assumed to both be deceased at the date of the act.
The original document includes the signatures of Jean, his brother Jacques, and the six brothers
Original Document
The original document is located in the Departmental Archives of L'Orne, Alençon, France, reference number 4E80/61, page 31 to 37.  A copy obtained from the archives is available at the following link: Act in Advance of Succession – Original. An example page from the document that includes the signatures of all parties is shown below.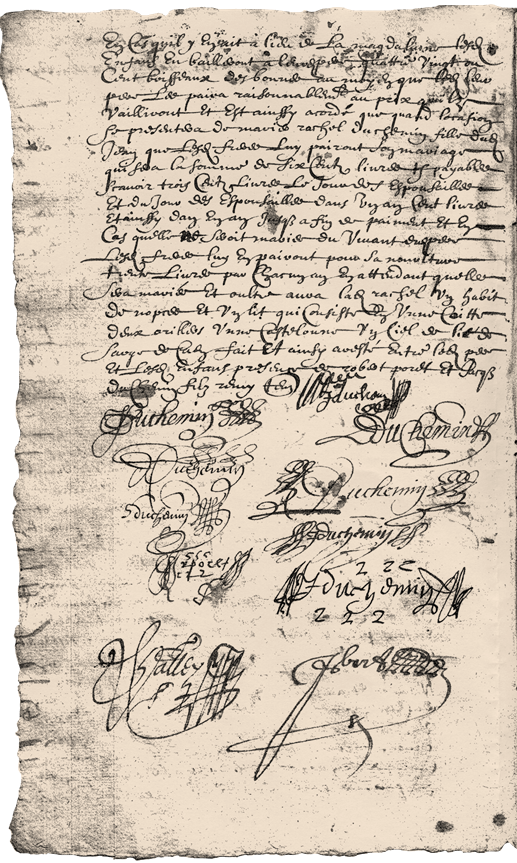 Transcription
The original document is written in 17th century French cursive and is challenging to read, even for native French speakers. A transcription of the document was made by Jacky Delafontenelle and Marie-Françoise Allouis which allowed a translation to be made. Click here to download the transcription and translation.
Translation
A rough translation (made using automated tools) is given below.
Agreement to Divide Estate of Jean Duchemin Prior to his Death
The twentieth day of May, the year one-thousand six hundred and sixty one before Guy Halley and Isaac Ybert, royal notaries in Tinchebray

Was present Jean Duchemin son of Rémy, citizen of Tinchebray, who of his own sound mind has decided, because of his age, to advance succession of his inheritance located and situated in the town of the aforesaid Tinchebray, consisting of a farm, house, garden and arable lands, to David, Isaac, Daniel, Samuel, Charles and Jean Duchemin his sons; reserving for himself his furniture to dispose of at his discretion or by the brothers between themselves in equal parts starting with the eldest to use as could have been used by the aforementioned Jean Duchemin, father.

This was accepted by the above named children under the condition that they will release the aforesaid Jean without limitation of any taxes for all the past years and years to come or of any obligations on real estate or furniture and fixture and in general of anything that is due. And in addition, the aforementioned children will allow their father to live the rest of his life in the room that he has always lived in.

And in addition, they accept to put two barrels and a drinking pipe in the lower courtyard, for his daily use. And in addition, he will have a piece of the herb garden, with manure to feed it, if they do not want him to take whatever is necessary for him from the garden. He will also take a reasonable amount of fruit. He will pay the aforementioned children for his heating and clothing expenses, the sum of nine twenty (180) Tours pounds each year which will be paid on the day of the next Whit Sunday (7th Sunday after Easter) in the coming year and every year until his death. They are obligated jointly in solidarity in one voice for all, except for the compensation, in case of the advance. And because the aforementioned Jean Duchemin, father, due to his age, could not go far buying apples to make cider for his daily use, in case that there be some instead at La Magdelaine, the aforementioned children will give their aforesaid father eighty or one-hundred bushels – good – by means that their aforementioned father will pay them reasonably, at the price which they will be worth.

And also is granted that when the occasion will present itself to marry Rachel Duchemin, daughter of the aforementioned Jean, the aforementioned brothers will pay her marriage with the sum of 600 Tours pounds, payable, as follows: 300 pounds the day of the nuptials, and on the day of the nuptials in one year 100 pounds, and thus each year, until the end of payment. And in case she would not be married during the life of the aforesaid father, the aforementioned brothers will pay some to her for her food: 30 pounds each year, until she be married. And in addition, the aforementioned Rachel will have: a wedding dress and a bed which consists of a feather bed, two pillows, a casteloune [cover, comes from Catalonia from where they were often originating], a canopy of Caen serge. Done and thus settled between the aforementioned father and the aforementioned children. Presence of Robert Poret and Jacques Duchemin son of Rémy. Witnesses.

J[ean] Duchemin [father]
I[saac] Duchemin       D[avid] Du Chemin
D[aniel] Duchemin     C[harles] Duchemin
S[amuel] Duchemin        J[ean] Duchemin
R[obert] Poret          J[acques] Duchemin
G[uy] Halley          I[saac] Ybert
Agreement to Create Shares of Estate
The twenty-fourth day of May in the year one-thousand six hundred and sixty one

Were present: David, Isaac, Daniel, Samuel, Charles and Jean Duchemin, brothers which, though from two mothers, that is to say: the aforesaid David, Isaac, and Daniel of Jean Duchemin and Guillemette de Monbrey and the aforesaid Samuel, Charles, and Jean from the aforesaid Jean Duchemin and lady Anne le Noir, nevertheless, for the proper harmony and brotherly friendship, and to maintain the knot forever and to avoid any discord and lawsuit which could occur to them in the dividing of the estate due them by the death of the aforesaid de Monbrey and Le Noir, their mothers, and even in the succession of their aforesaid father by the advancement that he did for them before this day, after between them having considered well and maturely that the advantages to each other is of equal value, have – by this present transaction, perpetual and irrevocable – consent and agree, want and wish that all movable and immovable estates above alleged to be shared and divided equally between them as if they were all out of the same womb, without the prerogative of each other, outside the right of primogeniture.

And to achieve this, the aforementioned brothers present this: to authorize their younger brother Jean Duchemin to make batches of shares equally and fairly to be selected by the other children, according to their order. And in addition, is granted herein that the aforementioned brothers, the aforementioned Samuel, Charles and Jean will pay to the said Isaac the sum of 300 pounds and is to reward the aforementioned Isaac Duchemin for receipt that he would have paid in the discharge of the aforementioned estate.

And, is also granted between the aforementioned brothers and Rachel Duchemin their sister that when she presents a party to a marriage contract with the aforementioned Rachel, they oblige to pay for up to date nuptials which will be: the sum of 300 pounds, in addition to three others of 100 Tours pounds which will be paid under the terms carried by the aforementioned marriage contract. In total 600 Tours pounds.

And, for the whole to satisfy and maintain, we oblige all our (goods) present and to come, renouncing all and sundry with all reliefs or some other thing that it is which can break, nor to decrease this present transaction made by mutual agreement and mutual assent, without and to be at all forced that by only equity and reason weighed well and considered, and to maintain the fraternal friendship forever. This fact in the presence of Jacques Duchemin son of Rémy and Robert Poret, witnesses.

D[avid] Du Chemin       I[saac] Duchemin
D[aniel] Duchemin       C[harles] Duchemin
S[amuel] Duchemin       J[ean] Duchemin
R[obert] Poret       J[acques] Duchemin
G[uy] Halley       I[saac] Ybert
Description of Each Share
This is the first of six shares that Jean Duchemin, son of Jean makes, of the shareable assets between him and David, Isaac, Daniel, Samuel, and Charles Duchemin his elder brothers, because of the advance of succession to them made by Jean Duchemin their father, located in the town of Tinchebray, land of La Magdeleine, to be authorized and communicated to the known brothers, to proceed to the selection of each one hence, according to the order and the precedence of seniority, and the other, remained for nonchoice to Jean Duchemin, according to the right of habit, to enjoy it each one of their share with ends of heritage, with the terms carried by the aforementioned advance of succession and according to the agreement reached between the aforementioned brothers, containing authorization to make the aforementioned shares and other things contained. The aforementioned made shares as follows.

And firstly

who will have this share which is one of the houses of Tinchebray which has the room and upper attic and front porch and court and portion of garden with grass behind, with half of l… (torn) of the house behind being used for barn and cattle shed, partially across, which will be measured in the whole, behind the church St Rémy, with the responsibility of pay 32 shillings of revenue to the receipt of the estate of Mortain, payable between the hands of the hérédital sergeant of Tinchebray.

And for the first and second shares: a gable (a pinion) joint, to make separation of the aforementioned house, behind which gable, they will be of such sufficient force to carry double chimney if desired. And in addition to, will be subject – the aforementioned first and second shares – to maintain a double chimney and even the drops being between the houses of the first and second shares and is understood there is an adjoining path between the gardens of the first and the second shares, to use them to go to the Court from behind of which 5 feet will be allowed – which will be sufficient to lead a barrel on poulains (sledge without wheels to transport barrels) and will allow the aforementioned first share: the tower ladder to cover the end of the house and the second share will be a piece of land to take up two parts of the Vallées which will name the Haute Vallée left through the end towards Tinchebray which is next to on one side the heirs Louis Hardouin and Julien Hurel, on another side the fifth and sixth shares, beside the aforementioned Hurel and another end main road, containing approximately one acre. Item will have a parcel, a portion of Pre Bion, upwards, joining Pierre Querel Hamel, of other, the second share, between the third batch and another end: the way of the Communes, containing rods and sums of money: approximately a quarter. The whole divided.

Second share

will have one of the houses of Tinchebray, being used as hall, shop, room and attic above the front porch, small cattle sheds behind and a portion of garden behind, with grass, with half of the house behind, being used for barn and cattle shed, part through, who will be measured by inside, the whole in the air, joining the heirs to Adrien and Jacques Hardouin, brothers.

And between the first and second share a joint gable, to make separation of the aforementioned house, which of force and left will be started, to carry double chimney. And will maintain the drops between the aforementioned houses of the aforesaid first and second shares. And is understood there is an adjoining path between the gardens of the first and the second shares, to be used by them two to go to the court behind and which will be 5 feet of width, sufficient to lead a barrel on poulains. And this share the ladder turn will have on the portion of garden of the first share to cover the leaves the aforementioned house behind when it it is necessary only.

A parcel, will have a ground portion to take with the bottom of the Fair St Luc, part with length, towards the sun of midday which is beside Julien Hurel, David Duchemin, and Pierre Querel le Hamel (?), on another side the third and fourth share, of an end the fifth share, of another end the way of La Magdelaine to Commons containing approximately 3 rods divided. A parcel, a portion of Pre Bion, at the end, towards the paper mill, joining on a side the quite of the aforesaid mill, on another side the way of the Communes, of an end the first share and another end the aforementioned paper mill. Containing approximately a half acre of ground, divided

The third share

will have a portion of the large house of La Magdelaine, being used as court, room and attic above, with the winepress being tipped front and behind, with half of the garden with grass, with a ground portion being at the end of the aforementioned house which would be part of Champ de la Foire St Luc, in the middle of the aforesaid field, the whole in one maintaining. Containing the aforementioned ground portion: half acre, half quarter or about. Without including the aforementioned house there, court and garden which is beside the second share, on another side and an end: the fourth share and of another end: the returning way of La Magdelaine to the Communes.

It is understood that the half of the tower of the aforementioned house remains joint between this present and fourth share, for the constraint of their houses, with the reserve of the cabinet being to the top of the aforementioned tower which remains in property with this present batch, with the responsibility to maintain cover the aforementioned tower. And to be able to secure this present and fourth share, to make a separation between the two attics, by half, maybe of stones, or dovecotes (half-timbering) as they will want to.

And as for the front door, towards the main road, in case they will not be able to sympathize in the state which it is, they will be able to secure this present and fourth share, one the other, blocking the aforementioned door and each one doing another, with the right of their houses. And in case which it remains in the state which it is, they will build there a canopy per half. And is the ground portion mentioned above, according to its terminals and divided. Will have a parcel, a portion of Pre Bion, the middle being above the good of the paper mill, between the first and fifth share, containing: rod and half, 8 poles and half or about, divided accordingly.

The fourth share

will have a portion of house of La Magdelaine, being used for cattle shed, room, attic above, with the apentil being at the end of the court and exit being with the end towards setting sun, with half undivided herb garden of the same end, towards the setting sun, With a portion of the field of the Champ de la Foire St Luc, part with length joining to them to main road, of other: the third share, one end the way of La Magdelaine to the Communes, the other end with the way drawn to put forward the aforementioned divisions. The aforementioned ground portion containing: half acre, 4 poles or about and divided. Without including the aforementioned court, house and herb garden.

It is understood that the half of the tower of the aforementioned house remains joint between this present and third share, for the constraint of their houses, with the reserve of the cabinet being above the aforementioned tower which remains in property with the third share, with the responsibilities to maintain the cover of the aforementioned tower. And will be able to subject each other to make a separation between the two attics, by half, maybe of stones or half-timberings, as they will determine.

As for the front door, towards the main road, in case they cannot sympathize in the state which it is, they will be able to subject each other to blocking the aforementioned door and doing each one themselves, with the right of their houses. And, in case which it remains in the state which it is, they will make a canopy there, by half, to avoid the ruin of the aforementioned house.

Will have a parcel, a portion of Pre Bion, being under the good of the paper mill, their, worms the aforementioned mill, joining on the one hand: with the quite of the aforesaid mill, of other: the last share, of an end: heirs to M. Julien Roche. Containing: half acre minus 3 poles, or about and divided.

Fifth share

will have a ground portion to take with the bottom of the Rollant Valley, part with the end towards east, with a house being here, as it is contained by the divisions, who is beside Julien Hurel, other: the last share, at the end: the first share and other: the second share. Containing 3 rods 4 poles. Will have a parcel a portion of Pre Bion, part through the end above, towards the sun of midday, near the lock, joining of all parts the Nibée river, the good of the mill, the third share and Julien Hurel and Etienne Duchemin piltier (proper name or profession: furrier?), containing: rod and four half poles.

Sixth share

will have a ground portion, named the Small Valley, as well in seedling as arable land, with a house being used for room and cattle shed, being here, towards the raising sun, who is next to on a side of the main road, of other: the fifth share, of an end: the first share and of other: the way intended to put forward the grounds of the aforesaid divisions. Containing 3 rods 14 poles or about.

With the responsibility of allowing that Isaac Duchemin raises a small building on the aforementioned portion. The following whole divided. Will have a parcel, a portion of Pre Bion, with the lower part of the good of the paper mill, at the end above, towards the lock, who joint of all parts the river, the good of the mill and the fourth share. Containing: half acre, half quarter or about and divided. Will have a parcel, a small ground portion through Bois Huan, named the Carrières, as it is contained and that it belongs to Duchemin.

Common costs

And all: as the aforementioned heritages contain and that it belongs about it to that dividing, with all the rights, divided, ways, dignities, freedoms, drink, hedges and ditches, to that the pertaining heritage, and by the mercs (terminals of land surveying) and divided posed into making land surveying here.

The first and second shares will be held to carry the third, quarter fifth and sixth shares in their pre portions, taking the way of Communes and being divided close to the large square; for, from there, between each one, to make its portion of pre. To know: the quarter and second share on a bridge which will be held to make by on L the good, for the exploit(ation) of their portion being to the lower part of the aforesaid good. And in addition to, is granted that holding it of the sixth share will carry the way of the fifth share by on a bridge which will make holding it of the fifth share, without the aforementioned bridge being able to inconvenience the aforementioned good – that like seniority.

And is heard that two squares – which are used to carry a bridge in front of, and even are used to put one pallée (wood stopping for the irrigation) to make abound water for sink (to make drains to evacuate the water of the fields) the meadows at the season – here will remain, to make use of it like old ruols (streams). And also, granted that the first and second share will have the downward water above the Poret meadows and even downward rain water of Cave of La Magdelaine. To know: the first share will have of it two thirds and the second share the other third. Which rain water could be diverted main road per none holding of the aforesaid shares, as being intended to descend downstream the way from Canée, for them, first and second shares, as known as is.

And as for the well, will remain common between the aforementioned brothers, with the trough of the aforesaid well. And, in the event of need, will be allowed to go to the fountain being on the sixth share, like seniority. And, the aforementioned brothers will have right to crush with the press pertaining to the third share the fruits increasing on aforesaid divisions. As will be the pilaison of the following day of the day St Gilles that the elder one of the succession will begin the first 3 days, and thus, in its order of seniority. And the aforementioned community of the press will last: the 10 years space. And, in the event of need, if there are some parts (barrels) which would fail, to be worn and not being able more to be useful, during the aforementioned 10 years it will be provided there for common expenses.

And, as long as for the rights which belong to holding of the aforesaid Fairground, because of the fair St Luc, each one will cancel some on what it holds of the aforesaid field. And the more so as one could not make quickset hedges, because of the Fair St Luc, in the aforementioned field, holding of the third and forth shares will do each one a dead hedge that they will raise by each one year for the convenience of the aforementioned fair. And will remain the old brooks, water, ways, ways, fountains and communes, in community like seniority, with the reserve of the pear trees which are out the trees of the bottom of the Fairground which remains to that the second share.

And, other will carry, everywhere where need will be, where to carry at least damage could not be, making. If debate or prevention occurs on its present divisions or started from here, they will intervene there for sixth share, maybe in contribution or defense. If it is remained something to be divided, it will be divided: coming to knowledge. And the whole with the load of holding of the third share to suffer that the aforementioned Jean Duchemin their father enjoys his lasting life the room booked by the aforementioned advance, and even as it puts 2 barrels and a pipe of cider in the court, according to and with the desire of the aforesaid advance and the whole with the loads carried in here. These present made shares, signed and decreed in the presence of Isaac Ybert royal notary, land-surveyor with Tinchebray, the 27th day of May the year 1661, in presence: Jacques Basin and Guillaume Salle, witnesses.

G[uillaume] Salle       J[ean] Duchemin
J[acques] Basin
G[uy] Halley       I[saac] Ybert
Selection of Shares
The last day of May, the year one thousand six hundred and sixty one, in front of Henry Halley and Isaac Ybert royal notaries in Tinchebray, were present David, Isaac, Daniel, Samuel and Charles Duchemin, brothers, citizens of Tinchebray, which, after having had communication of shares made by Jean Duchemin their brother present, heritage divided between them, because of the advance of succession to them makes by Jean Duchemin their father, located in the town of Tinchebray and soil of La Magdelaine and them to have the aforementioned shares of them, on 27th day of this month, and them being found the aforementioned shares: well done, without blames nor reproaches and proceeded to selected the one here as it follows.

It is with knowing that the aforementioned David Duchemin, as eldest, stated to choose and took the third share. The aforementioned Isaac: the forth. The aforementioned Daniel: the sixth. The aforementioned Samuel: the first. The aforementioned Charles: the 5th share. And returned the other, for nonchoice, to Jean the youngest in the aforementioned succession For…. and to lay out each one of their leaves, at ends of heritage, with the terms and conditions carried by the aforementioned shares and advance of succession and drew up the act to them, each one.

D[avid] Du Chemin
D[aniel] Duchemin       I[saac] Duchemin
C[harles] Duchemin
S[amuel] Duchemin
J[ean] Duchemin
[unknown]       [unknown]
G[uy] Halley       I[saac] Ybert