Commonwealth of Virginia vs. Sheriff J. Samuel Dishman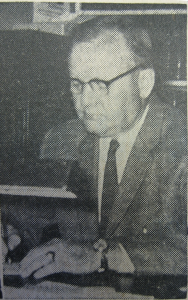 On May 29, 1954 a trial was held in King George County Circuit Court wherein Horace T. Morrison, the Commonwealth Attorney for the County, was attempting to oust from office, James Samuel Dishman, the Sheriff of the County. The conflict had its origin in the desire of the Commonwealth Attorney to dominate the constitutional officers of the County and thereby attempt to have political control of the activities of the local Democratic Party Committee. All of the County Officers at that time were either elected as Democrats or were appointed with the Democratic Committee approval. The following transcript covers the actual proceedings of the all day trial and is concluded by the written opinion of Circuit Court Judge Leon M. Bazile. The opinion of Judge Bazile completely exonerated the Sheriff of all charges and delivered a sharply worded written opinion which was very critical of the Commonwealth Attorney's motives and mental makeup.
Linked below are copies of the original trial transcript and the judge's ruling. The trial was covered extensively by the local newspapers in King George and Fredericksburg.
Court Transcripts
Newspaper Articles