James Samuel Dishman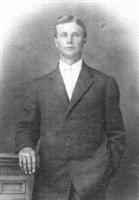 James Samuel Dishman, the son of James William Dishman and Anna Edward Suttles, was born on December 21, 1885 at Prim, King George County, Virginia (near Round Hill Baptist Church). He died on April 8, 1979 and was buried in the Round Hill Baptist Church Cemetery.  He was the 4th great grandson of Samuel Dishman (Duchemin) and my (Keith Dishman) grandfather.  He lived his entire life in King George County, Virginia, within a few miles of where Samuel and Isaac Duchemin first settled in Virginia.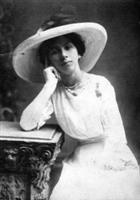 He married Betty Grigsby on November 23, 1916. She was at the time a school teacher at Madison Elementary School near Tetotum, King George County and had been the first teacher at that County school when it opened in 1912. Betty Grigsby was born on Bristol Mines Farm near Wilmont Wharf in King George County on January 19, 1888 and was the daughter of James Dallas Grigsby and Virginia Caroline McGinnis. She was also the sister of James Cleveland Grigsby, a long time Treasurer of King George County. She died on December 5, 1964 and is buried in the Round Hill Baptist Church Cemetery.
James Samuel Dishman attended school at a one room County school near Nindes Store, Virginia (original site of the Ninde, Va. Post Office) and finished the 7th grade, this being the extent of the free school available at that time. In about 1903 he went to work for a Mr. Davis who operated a General Store and farm at Dyedoe on the north side of Machodoc Creek in the general area of the present Dahlgren. His duties consisted of clerking in the general store, farm manager and caring for all the property during the winter months when Mr. Davis traveled to Florida. He continued this work until about 1912 when his Father died suddenly and he was forced to return home to look after his Mother and two Sisters.  He registered for the World War One draft in 1918, and again in 1942 for the "Old Man's Draft" of World War Two, but was never called to serve.
Soon after he married Betty Grigsby in 1916, he rented and moved to a farm near Nindes Store, Virginia which was owned by heirs of George and Betty Coakley Price. This is the farm and home he eventually purchased in 1938 and where he made his home until he died in 1979.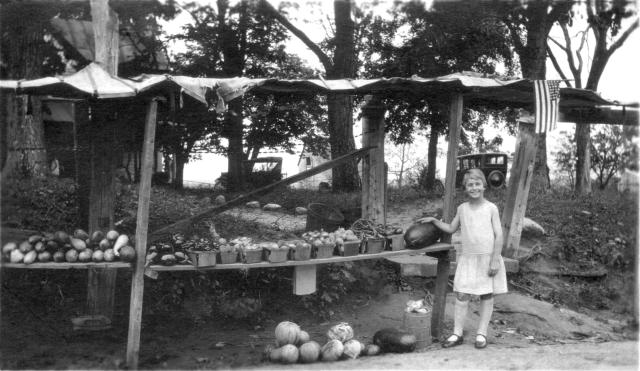 During the period 1916 to 1941 he engaged in general farming with emphasis on poultry and vegetables. He sold most of his produce either at Colonial Beach from his Saturday huckstering or at the farm during other times. In the non-farming times of the year he would use his team of horses for logging at a local sawmill or work on the public roads. The going rate at the time was $5.00 per day for himself and his team of horses. He looked after property in the Ninde area for several absentee owners and several times took census from horseback. He worked as a census enumerator for King George County in 1920 and 1940.

He was a life long supporter of the Democratic Party and served on the King George County Democratic Committee for many years. He also served as a member of the Electoral Board as his father had for many years before him.
He was taught the Bible by his mother during his youth and the Bible was his guide in his work, his conduct, and his relations with others. He served as clerk and trustee of Round Hill Baptist Church where he was a lifelong member as were his parents.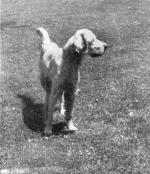 During the early years of his life he was an avid fox hunter and at one time owned several outstanding foxhounds which he delighted in hearing outperform the others in the pack during a chase. In later years he was fond of bird hunting and owned at different times two outstanding English Setters which he had trained from puppies. One of these, Nick-More-Money, was featured in the September 1946 issue of Virginia Wildlife Magazine.
His favorite sport was baseball which he played in his younger years with local teams and he attended many area games before the coming of radio and television. In his retirement he kept up with the professional games by watching all televised games.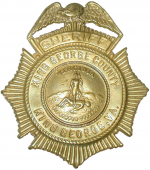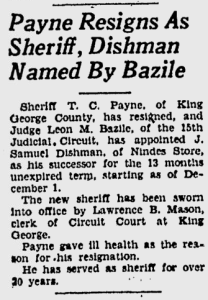 On December 1, 1942 he was appointed Sheriff of King George County to serve out the unexpired term of Sheriff Chastine Payne. He was recommended and supported by the local Democratic Committee and was sworn in by Circuit Court Judge Leon N. Bazile. He was subsequently elected to four successive 4 year terms and retired on December 31, 1958 due to his own age and the fact that his wife was in poor health.
During the 17 years he was Sheriff the salary increased from $1200 per year to $4000 per year which was thought to be quite well at the time. He did not have a full time deputy during his terms of office but depended on several persons he deputized for services as needed. In earlier years his part time deputy was Lloyd Farmer of Ninde, Virginia and in later years he had James Crabtree of King George as his deputy. The deputies were paid only for the days worked and in later years the rate was $6.00 per day. The Sheriff kept all of his own records and filed his necessary monthly reports with the clerical help of his wife and daughter.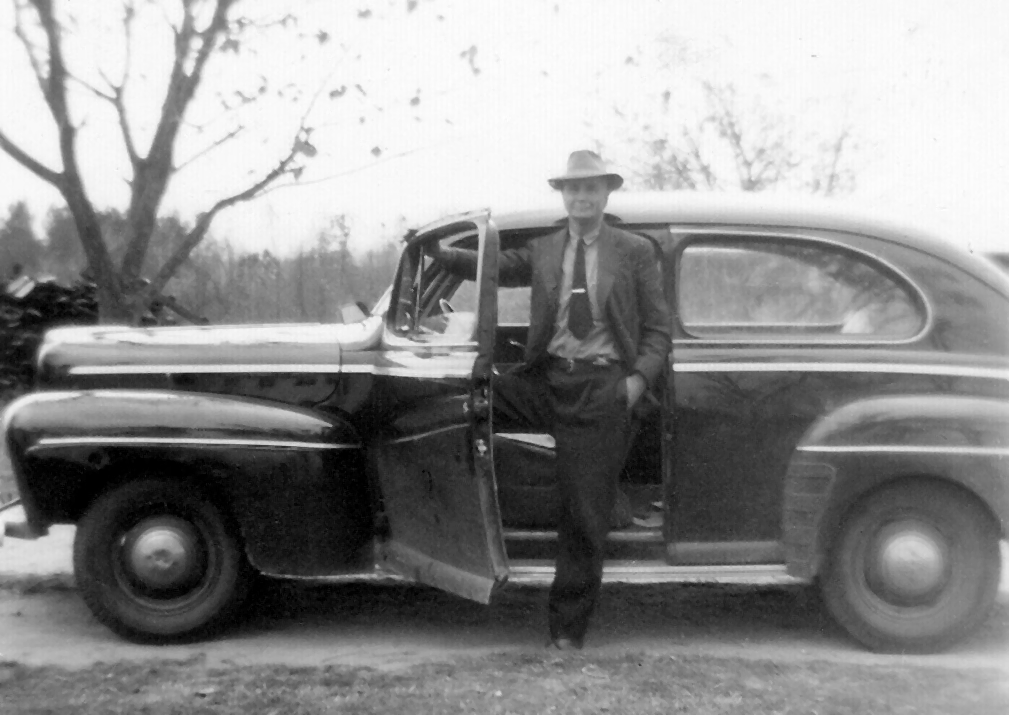 All vehicles used by the Sheriff were his personal automobiles for which he was paid 5 cents per mile at first and this had increased to 7 cents by the time he retired. The automobiles had no special equipment and after having been turned down by the Board of Supervisors several times, the Sheriff purchased his own siren and 2 way radio. The radio communications were handled by the State Police at Culpeper and was used by the Sheriff only in an emergency.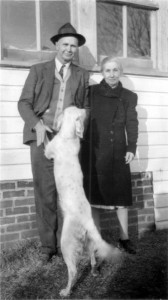 In May of 1954 the Sheriff was the subject of an attempt by the then Commonwealth Attorney Horace T. Morrison to oust him from office by charging him with misfeasance, malfeasance, and neglect of duty. The Sheriff demanded an immediate trial so that he could challenge the unfounded and unsupported charges brought by the Commonwealth Attorney. An all day trial was held on May 29, 1954, at the conclusion of which Circuit Court Judge Leon M. Bazile completely exonerated the Sheriff of all charges and delivered a sharply worded written opinion which was very critical of the Commonwealth Attorney's motives and mental makeup.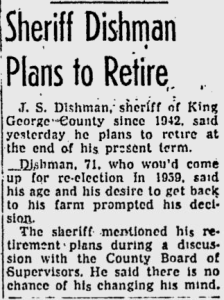 At the conclusion of his last term as Sheriff on December 31, 1958, Mr. Dishman retired to his farm near Ninde, Virginia and spent over 20 years of happy retirement raising a large vegetable garden (most of which he gave away) and carrying on a lively conversation with all who passed his way.  In 1977, he was interviewed by the Smoot Library and reminisced about his days as sheriff.
He and his wife were blessed with 7 children (2 sons and 5 daughters) and 20 grand-children.
Based on a biographical sketch written by his son James Dallas Dishman in 1984.
Newspaper Articles about James Samuel Dishman