Welcome to the Dishman Family of Virginia website. Here you will find the history of the Dishman family that originated with Samuel Duchemin, a 17th century immigrant to the Northern Neck of Virginia, and the genealogy of this site's author with a special focus on his grandfather James Samuel Dishman, the last Dishman to live in the Northern Neck.
Sometime between 1687 and 1693, Samuel Duchemin emigrated from France to the Colony of Virginia. He was a Huguenot (French Protestant) from the village of Tinchebray in Normandy.  Along with his half-brother Isaac Duchemin, he purchased land in Westmoreland County, Virginia (located in King George County after 1778).  Samuel was naturalized in Virginia under the anglicized name of Dishman.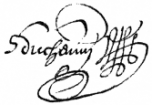 Other spellings of the name appearing in the written records between 1693 and 1726 are DECYMEE, DUCHMEIN, DUCHEMEIN, DUCEMAN, DUCHEMEN, DUCHIMINIA, and DUCHIMIN.  Samuel and his wife Cornelia had at least eight children, while Isaac and his wife Martha had no known descendants.  Most of the descendants of Samuel settled in the Virginia counties of Westmoreland, King George, Essex, and Loudoun, but a large number migrated to Kentucky, Missouri, and points further West.
This site presents information about many of the descendants of Samuel Duchemin (Dishman), but the primary focus is on the line of descendants that include James Samuel (Sam) Dishman (4th great grandson of Samuel) and his wife Betty Bell Grigsby Dishman, the grandparents of this writer. Included are transcriptions of important documents related to the first seven generations of the Dishman family that originally settled in the Northern Neck of Virginia. Information on the related families of Grigsby, Suttle, McGinniss, Baker, and Triplett is also included.
Also included is information about the author's maternal ancestors beginning with my grandparents Wealthy Edward Mitchell of Amherst County, Virginia, and his wife Hattie Pride White of Bedford County, Virginia. This research is less complete than the Dishman genealogy but is being improved all the time.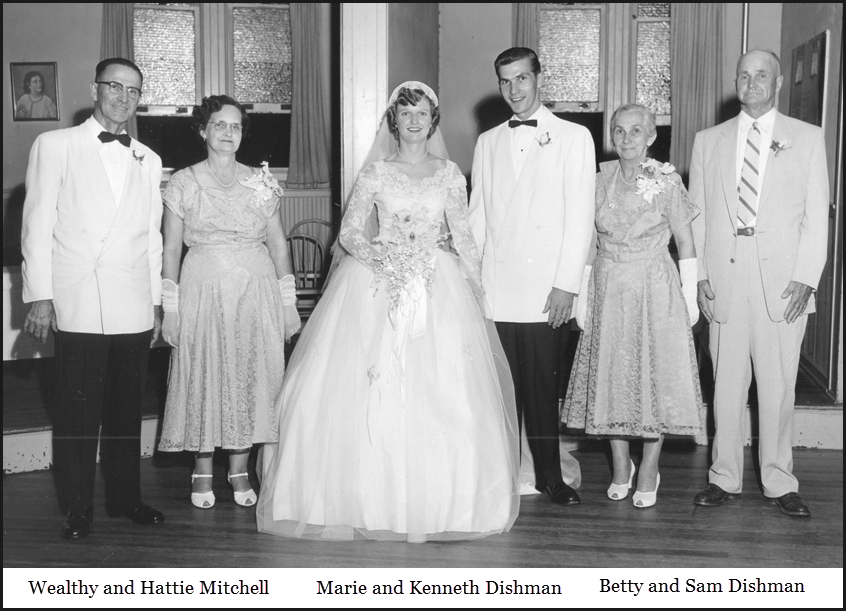 The information presented on this site is the result of many years of research by members of the family.  Much of the Dishman research was done by my uncle James Dallas Dishman of Lynchburg, Virginia, along with valuable contributions by genealogist William Anderson Hagey (1920-1999). They followed in the footsteps of Samuel Roland Dishman (1871-1946), publisher of the earliest known Dishman genealogy chart. My criteria for deciding who to include on this site can be found here.